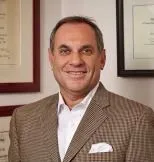 Dr. Gary Itzenson earned a Bachelor of Science degree from Lehigh University and then a Doctorate in Optometry degree from the Pennsylvania College of Optometry in 1983. Dr. Itzenson earned the prestigious Clinical Excellence Award in Low Vision Care from the Feinbloom Low Vision Center at the Eye Institute's Pediatric and Binocular Vision Clinic in Philadelphia.
In 1984, Dr. Itzenson founded Lafayette Eye Associates at our current location with the transformation of "Marble Hall" (built circa 1747) into a medical office. The practice was formed with a focus on pediatric eye care. Shortly thereafter, Lafayette Eye welcomed patients of all ages when family members of his pediatric patients consistently requested to receive their care from him due to his mission to provide quality, professional care in a warm and friendly environment. With further investment in transforming the office layout, the addition of state of the art technology and expansion of the medical team, Lafayette Eye continues to provide the highest level of medical and routine eye care to Lafayette Hill and the surrounding areas.
In addition to Lafayette Eye, Dr. Itzenson founded On-Site Health Services, a multi-specialty medical service that provides on-site care in alternative settings in Pennsylvania and New Jersey. He is a member of the American Optometric Association and is involved in numerous charitable causes including leadership roles with the Montgomery County Association for the Blind and Visually Impaired.
Dr. Itzenson and his wife Leslie live in Blue Bell with their cockapoo Oliver. They have three terrific children and three adorable grandchildren. Outside of his professional interests, Dr. Itzenson enjoys golf, cooking, traveling, music and most importantly spending time with his family.