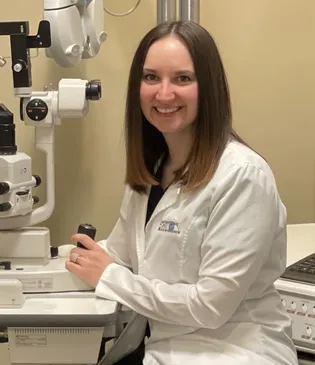 Dr. Sarah Kulich graduated from optometry school at The Pennsylvania College of Optometry at Salus University with clinical honors in ocular disease, primary eye care and contact lens services in 2012. She completed her training with clinical honors at various eye care and medical centers throughout the country.
Dr. Kulich has volunteered her time providing vision screenings to patients of all ages with the Special Olympics organization. She has been providing eye care to patients with special needs both with the organization and in private practice from the beginning of her career. Additionally, she has periodically served as a Preceptor for The Pennsylvania College of Optometry teaching clinical skills to first year students of optometry.
Over the last several years in private practice, Dr. Kulich has developed a diverse skill set helping families with all of their eye health and vision needs including diagnosing, treating and managing disease and routine eye care needs for patients of all ages from infants and toddlers through geriatrics. She provides comprehensive eye exams, treatment and management of ocular disease, emergency care, soft and specialty contact lens services including multi-focal, toric, scleral and hybrid contact lenses, and pre/post-operative care.
Outside of her professional interests, Dr. Kulich enjoys cooking, baking bread and watching British TV. A Pittsburgh native, she now resides in Horsham with her husband, her adorable daughter, and her Maine Coon Felix.